American Cruise Lines - 2017 Southeast Alaska Cruise
Eight-Day / Seven-Night Alaska Cruise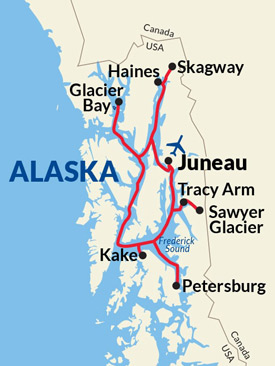 Day 1 Juneau, Alaska
Arrive on Friday evening to maximize your time exploring Juneau. The town offers unique shopping, native heritage sites, and an easy trip to Mendenhall Glacier. Forested islands, quiet coves, and rugged coastal mountain ranges greet you as soon as you leave the dock.

Day 2 Skagway, Alaska
Known as the "Gateway to the Yukon," Skagway was central to the Klondike Gold Rush of 1897. The restored town is true to its past with period architecture, performers, and old street cars to relive the experience of the frontier.

Day 3 Haines, Alaska
Bald eagles are among the most populous of over 260 species of birds in Chilkat Valley. Our onboard expert and a local guide will take you through the valley pointing out all the different species along the way. We have an extended stay in Haines to let you do a variety of things, including kayaking on Chilkoot Lake, or an afternoon of salmon fishing on a charter boat.

Day 4 Glacier Bay, Alaska
Covering 3.3 million acres of dynamic topography, Glacier Bay is the world's largest biosphere. It includes glaciers, temperate rainforest, and snow-capped mountain peaks. During the day you will see seals, whales, eagles, and bears, as well as massive glaciers.

Day 5 Kake, Alaska
Just 38 miles northwest of Petersburg in the Inside Passage is the beachfront village of Kake. This small community of 500 is home to the Kake tribe, a proud people who have frequently defended their land against other tribes and early American explorers. The waters around Kake are well-known among seasoned anglers and boast a healthy population of halibut and salmon.

Day 6 Petersburg, Alaska
Located on Frederick Sound, Petersburg is a thriving fishing community with a strong Norwegian heritage. This charming village offers a relaxed atmosphere while exploring an authentic Alaskan town.

Day 7 Tracy Arm, Alaska/Sawyer Glacier
Sail under the 1,500-foot-high vertical cliffs of Tracy Arm as seals lounge on small ice floes before reaching the mile wide South Sawyer Glacier. Hundreds of waterfalls cascade down the sides of this fjord, creating a majestic atmosphere.

Day 8 Juneau
On your return to Juneau, spend some time exploring the impressive collection of museums, shops, and attractions in the heart of Alaska's capital.