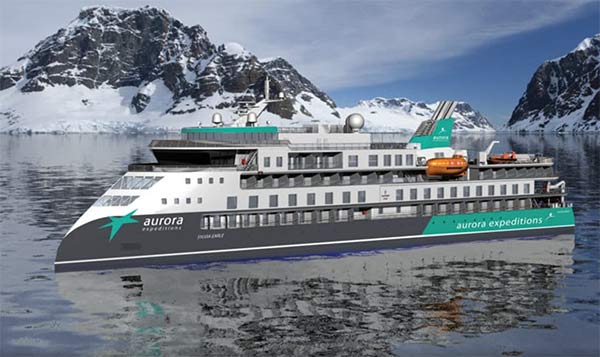 Just 4 Alaska sailings,
starting May 19, 2022 in Vancouver.

Aurora Expeditions new ship, Sylvia Earle will make its debut in 2022. Set to launch in April 2022, the company is sending her to Alaska and Asia in her inaugural months! Named for marine biologist and oceanographer, Dr Sylvia Earle, the first female chief scientist of the US National Oceanic and Atmospheric Administration this vessel is a tribute to her marine conservation efforts.

The vessel is purpose built for expditions to the most remote destinations on the planet and features the Ulstein X-BOW, allowing the ship to cross oceans more comfortable and efficiently.

Accommodating just 130-140 expedition guests per voyage all cabins have ocean view, most are balcony cabins. The ship also features a modern lecture lounge, multiple observation areas, Zodiac launching platforms, a restaurant serving excellent meals, a gym and wellness center, Jacuzzis, a mudroom and many other amenities.