3-Day Classic Voyage
Sample the natural wonders of northwestern Prince William Sound on a 3-Day Classic Voyage.... Cruise amongst massive tidewater glaciers. Explore the serene waters of quiet bays with spectacular waterfalls. Watch the antics of sea otters and Dall porpoises and keep an eye out for whales.

This trip is an excellent sampler of what Prince William Sound has to offer! Cruise the various fjords with massive tidewater glaciers backed by mountains to 13,000 feet. Explore the serene waters and the gaze at the spectacular waterfalls.

Watch the antics of sea otters and Dall porpoises and keep an eye out for whales. All of this while leaving plenty of time for hiking, kayaking, and world-class photographic opportunities. All activity levels are welcomed.

2022 Tour Dates & Rates:
June 09 - June 11, 2022 Classic 3 Day Voyage $2,900 /pp
June 23 - June 25, 2022 Classic 3 Day Voyage $2,900 /pp
Junly 5 - July 7, 2022 Classic 3 Day Voyage $2,900 /pp



Classic Discovery Voyage
The Classic Discovery Voyage explores the natural wonders of Prince William Sound on a 65-foot yacht! Years of travel and exploration in the Sound have resulted in a destination list of must-see places. These small ship cruises may be 5-7 days, based on the specific itinerary.

The Classic Discovery Voyage explores the natural wonders of Prince William Sound. Years of travel and exploration have resulted in a destination list of must-see places including wildflower meadows, rainforest trails, calving glaciers, whale watching, breathtaking waterfalls, shore side hikes, and kayaking in the protected bays and fjords.

This voyage is offered in lengths of 4 to 6 days, with the longer trip giving us the ability to venture further into the Sound and allowing for exploration of additional glaciers, bays, and more opportunity for whale watching.

The Classic Voyage is geared towards all activity levels, and is a common trip for retired parents to enjoy with their adult "children"!

2021 Tour Dates & Rates:
May 24 - May 29, 2021 Sierra Club 6 Day Voyage PENDING
May 30 - June 3, 2021 lassic 5 Day Voyage $4,100 /pp
June 4 - June 9, 2021 Classic 6 Day Voyage $4,950 /pp
June 20 - June 24, 2021 Classic 5 Day Voyage $4,600 /pp
June 26 - June 30, 2021 Classic 5 Day Voyage $4,650 /pp
July 1 - July 5, 2021 Classic 5 Day Voyage $4,650 /pp
July 6 - July 10, 2021 Classic 5 Day Voyage $4,995/pp
July 29 - August 3, 2021 Classic 6 Day Voyage $5,500 /pp
August 13 - August 17, 2021 Classic 5 Day Voyage $4,600 /pp
August 21 - August 25, 2021 Classic 5 Day Voyage $4,650 /pp
August 21 - August 30, 2021 Classic 5 Day Voyage $4,050 /pp
September 5 - September 10, 2021 Sierra Club 6 Day Voyage PENDING

2022 Tour Dates & Rates:
May 22 - May 27, 2022 Sierra Club 6 Day Voyage $4,245 /pp
May 28 - June 2, 2022 Classic 5 Day Voyage $4,200 /pp
June 4 - June 8, 2022 Classic 5 Day Voyage $4,200 /pp
June 18 - June 22, 2022 Classic 5 Day Voyage $4,650 /pp
June 26 - June 30, 2022 Classic & Photo 5 Day Voyage $4,650 /pp
July 17 - July 21, 2022 Classic 5 Day Voyage $4,650 /pp
July 29 - August 3, 2022 Classic & Photo 6 Day Voyage $5,500 /pp
August 16 - August 26, 2022 Grand Alaska Voyage $7,950 /pp
August 17 - August 21, 2022 Classic& Photo 5 Day Voyage $4,650 /pp
August 28 - September 1, 2022 Classic 5 Day Voyage $4,200 /pp
September 2 - September 6, 2022 Classic 5 Day Voyage $4,200/pp
September 7 - September 12, 2022 Sierra Club 6 Day Voyage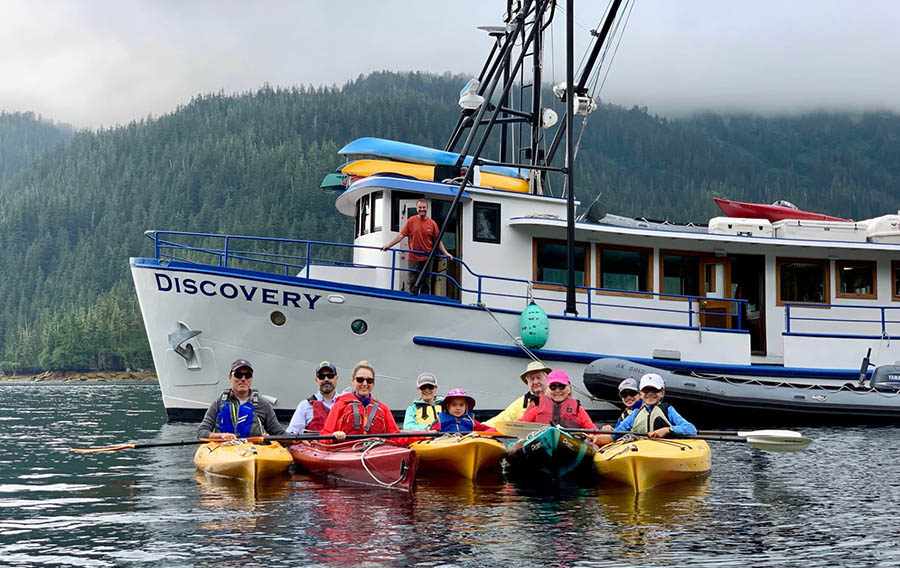 Hike & Kayak Voyage
The Hike and Kayak Voyage lets you explore the landscape, wildlife and atmosphere of Prince William Sound Alaska from the small ship M/V Discovery with an emphasis on physical activities like kayaking among icebergs and hiking on glacial outcroppings or through undisturbed forest.

The Hike and Kayak Voyage lets you explore the landscape, wildlife and atmosphere of Prince William Sound with an emphasis on more physical activities such as longer kayak excursions, hiking on glacial outcroppings or through undisturbed forest. The Sound's bays, coves and quiet waterways are as endless as the mountain meadows and ridge lines, and this trip samples richly from these special places.

In addition to some energetic exploration, wildlife viewing, sightseeing, and visits to our favorite locations are also incorporated.

A moderate activity level is recommended and a sense of adventure is essential!

2021 Tour Dates & Rates:
July 17 - July 22, 2021 Hike & Kayak 6 Day Voyage $5,500 /pp
July 23 - July 27, 2021 Hike & Kayak 5 Day Voyage $4,650 /pp
August 7 - August 12, 2021 Hike & Kayak 6 Day Voyage $5,500 /pp

2022 Tour Dates & Rates:
July 5 - July 8, 2022 Hike & Kayak 4 Day Voyage $3,650 /pp
August 22 - August 27, 2022 Hike & Kayak 6 Day Voyage $5,500 /pp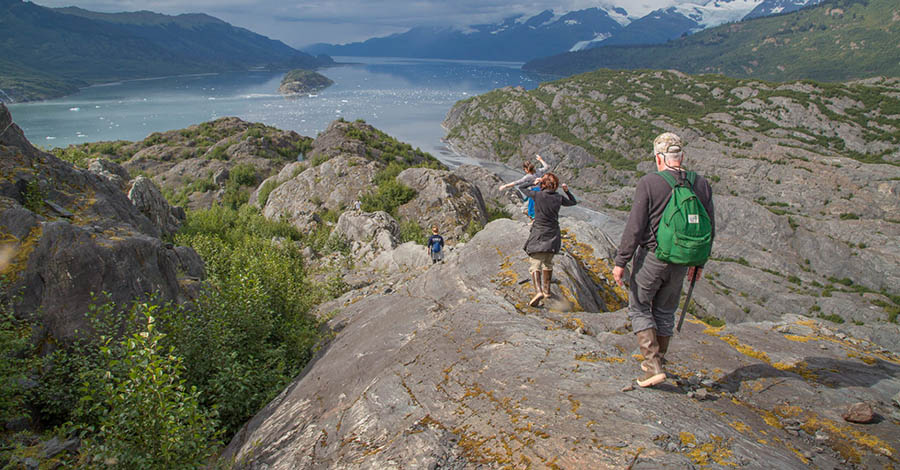 Grand Alaska Voyage
The Grand Alaska Voyage, guided by naturalist and photographer Hugh Rose, includes the best of Alaska's scenery and wildlife. The journey begins in Anchorage and the nearby world-famous Prince William Sound on a five day voyage aboard the M/V Discovery.

The Grand Alaska Voyage is 9 to 12 days in length. We aimed to create a bucket list trip! The Grand Alaska Journey, guided by naturalist and photographer Hugh Rose or long time Alaskan guide Bill Mohrwinkle, is the ultimate Alaska land and sea adventure featuring the very best of Alaska's scenery and wildlife. The journey is a one way adventure, beginning in coastal Anchorage and ending in interior Fairbanks, or vice versa.

The voyage varies from 3 to 6 days in length in breathtaking Prince William Sound. The land portion of this trip couldn't be grander: Private travel by road into Alaska's interior for an intimate three-day tour of Denali National Park, spending 2 nights 90 miles deep in the Park at a private lodge. View 20,310ft Denali (formerly Mt McKinley) as well as the plethora of animals that call the Park home – among a few are moose, grizzly bears, caribou and dall sheep.

A flight-seeing tour of Denali National Park is included, weather permitting. Visit a working mushing kennel. Tour a museum to view native Alaskan artifacts. The land portion is limited to 8 guests making for a unique and specialized experience.

2021 Tour Dates & Rates:
June 16 - June 24, 2021 Grand Alaska Voyage $6,000 /pp
July 6 - July 14, 2021 Grand Alaska Voyage with Sierra Club PENDING
July 13 - July 21, 2021 Grand Alaska Voyage $6,500 /pp
July 24 - August 4, 2021 Grand Alaska Voyage $7,950 /pp
July 30 - August 7, 2021 Grand Alaska Voyage $6,500 /pp

2022 Tour Dates & Rates:
July 13 - July 21, 2022 Grand Alaska Voyage with Sierra Club $6,575 /pp
July 24 - August 4, 2021 Grand Alaska Voyage $7,950 /pp
August 16 - August 26, 2022 Grand Alaska Voyage $7,950 /pp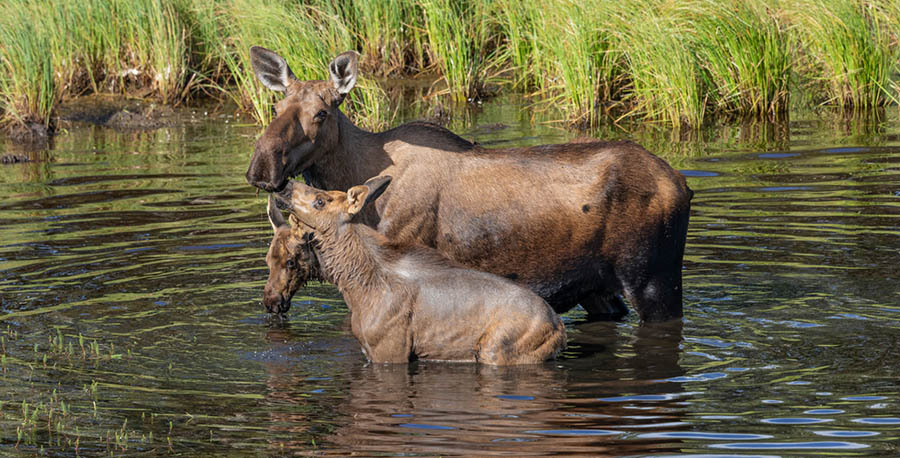 Brown Bears & Calving Glaciers
Explore a rich slice of Alaska in the scenic wilderness settings of Lake Clark National Park and Chugach National Forest. Get off the beaten path and experience unparalleled photographic and wildlife viewing opportunities while part of a small group.

Explore a wildlife rich slice of Alaska, set in the scenic wilderness settings of Lake Clark National Park, and the Chugach National Forest Wilderness of Prince William Sound. Get off the beaten path and experience unparalleled photographic and wildlife viewing opportunities, while part of a small group.

Begin the journey with an exploration of the remote corners of Prince William Sound on a five-day voyage, observing wildlife such as black bear, sea otters, harbor seals, whales, sea lions and puffins, amidst a spectacular blend of mountain, forest, and glacial scenery.

Next take a scenic bush flight to one of the most remote and road less national Parks in Alaska; Lake Clark. Stay in a comfortable lodge for 3 days of intimate bear viewing, where you are on the ground with coastal brown bears as they feed, nurse, mate and play in the lush green, flower filled meadows. Due to their high-protein salmon diet, coastal brown bears are significantly larger than the interior grizzly bears.

Most of the time spent here will be observing and photographing the phenomenal bear activity, sometimes even from the deck of your cabin. There is also an option to take a fishing charter for halibut or salmon!

2021 Tour Dates & Rates:
June 25 - July 5, 2021 Brown Bears & Calving Glaciers $8,950 /pp

2022 Tour Dates & Rates:
June 17 - June 27, 2021 Brown Bears & Calving Glaciers $8,450 /pp
June 25 - July 5, 2021 Brown Bears & Calving Glaciers $8,450 /pp

Private Family Charters
A growing portion of the Discovery's season provides customized, private voyages into Alaska's prized seacoast region of Prince William Sound. Individual families, wedding parties, groups of friends, photographers, educators, and other small groups can charter the boat for their exclusive cruise and enjoy a private wilderness experience.

Enjoy an unforgettable Alaska family vacation with Discovery Voyages, the specialists in exclusive small cruise travel in Alaska's famous Prince William Sound. Invite your own friends and family to see the real Alaska and avoid the crowded, popular travel destinations of industrial tourism – bring your family on board the Discovery for the cruise of a lifetime. The Discovery staff attends to the details while you relax and spend your time focusing on what matters most to you – enjoying your family and vacation. Children of all ages are welcome.
Alaska Small Ship Cruise Family Charters
Adventure Private Alaska Tours

A cruise on the Discovery offers families wonderful vacation opportunities deep in the heart of southcentral Alaska's most magnificent waterway wilderness. Enjoy the massive landscapes and natural beauty of Prince William Sound, as well as wildlife sightseeing, whale watching, sea kayaking, walks on forest trails, and other recreation activities.
Family Cruise Tours In Alaska

Visits to shore are made daily for hikes along the beach, alpine meadows, and if you are up for it, treks to mountain ridgelines. It is all customizable, and excursions are optional. The views from the Discovery are breathtaking in all directions. The meals are prepared by the Discovery chef, and delight the eyes as much as the palette.

Captain Rand and his professional staff help you explore, experience and relax in one of Alaska's most pristine marine and coastal environments.
Private Charter Rates
Charters are available for up to 12 passengers. * Some exceptions may apply
No age minimum for kids.
Rates range from $7,900 to $9,500 per day based on seasonal demand and availability.
Rates include cost for the entire boat for the length of specified voyage, including full crew, meals, complimentary bar, all user fees and use of equipment, plus round-trip van transfers between Anchorage/Whittier. Pre/post cruise accommodations in Anchorage are included as well, but can be removed upon request.
Non-refundable deposit for charters: $4,500