North Pacific Expeditions - Inside Passage
Alaska Marine Highway Journey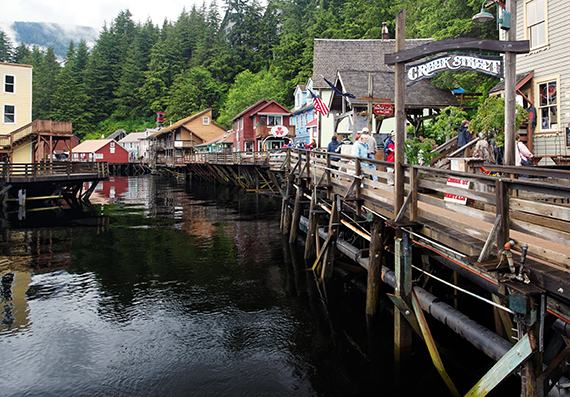 Up to 8 DAYS / 7 NIGHTS
If the Inside Passage is on your bucket list but a bit short on time, then this unique cruise will tantalize the senses and offer a maritime journey unlike any other. The remoteness and wild beauty of the Alaska Marine Highway consists of twisting narrow channels, spectacular wildlife variety, and rugged scenic terrain that will capture you forever.

While onboard, you'll gain valuable navigational skills, experience, and familiarity with this incredible, but technical, natural waterway that will allow you be a more confident mariner when you sail your own vessel.

During the Inside Passage cruise route from Seattle to Sitka, you will travel via the Alaska Marine Highway through narrow channels, navigating strong currents, and passing by spectacular remote scenery while making your way up through Canadian waters and into Southeast Alaska.

Highlights
1/ Nonstop passage aboard the adventure cruise yacht Sea Star for travelers wanting to experience the Inside Passage in a short amount of time
2/ Narrow channels, remote scenic terrain, exhilarating wildlife including orcas and whales
3/ Intermediate stops in Ketchikan and Petersburg with choice to disembark in either
4/ Option of navigational instruction: learn currents, tides, weather, and night sailing
5/ Once in Southeast Alaska, overnight anchorages near glaciers or hot springs

You'll pass by the San Juan and Canadian Gulf Islands, head up through the Georgia Straights into Discovery Passage and then through Seymour Narrows; where tidal current can reach up to 15 knots and more. As you travel through Johnstone Straight look for orca and humpback whales or even catch a view of Dall porpoises frolicking in Sea Star's bow wake.

Ketchikan
Your route also takes you through Princess and Grenville Channels, with Grenville Channel measuring less than 300 yards across at the narrowest section along this 40 nautical mile channel! The first stop in Southeast Alaska is Ketchikan, where you may stretch your legs and explore this quaint and busy coastal town. You also have the option of disembarking the vessel to end your Inside Passage cruise.

Petersburg
For those remaining onboard, you will continue on to Petersburg by passing through Wrangell Narrows where you'll have a chance to see a grazing moose, feeding bald eagles on a beach, and local working fishing and tug boats. Sea Star then stops in the old fishing port of Petersburg. Known as "Little Norway," Petersburg is another great little town to walk around and explore, soaking up the local history. You might also choose to disembark and finish your journey.

Sitka
Sea Star will then depart Petersburg, heading into Frederick Sound in route to her final destination of Sitka. On the way, look for breaching humpback whales and witness their spectacular bubble net feeding technique. Or you might catch sight of a stunning glacier or the numerous wildlife that fills the areas. And on one of the evenings where Sea Star drops anchor, maybe take a hike to soak in a natural hot spring.

Once you arrive in Sitka, you'll want to take the time to tour the many historic sites, possibly buy an Alaska Native handmade gift, or visit the Sheldon Jackson Museum (Russian history and Native Alaskan art).