North Pacific Expeditions Kenai Peninsula - Grand Explorer's Adventure (including travel aboard the Alaska Railroad and Homer airfare)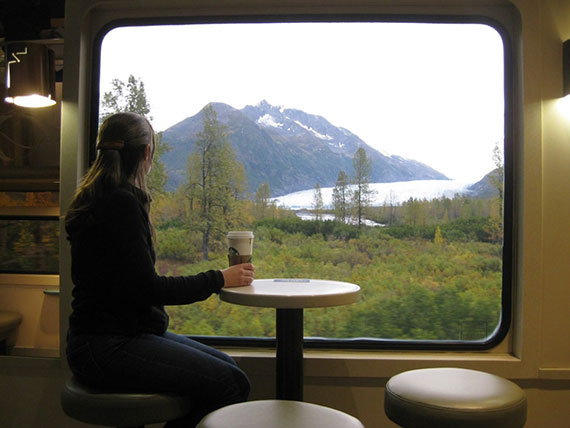 7 DAYS / 6 NIGHTS
Sample Itinerary: Seward to Homer
Spectacular Alaska Sightseeing ~ Fjords, Glaciers, Whales
For the more adventurous traveler, North Pacific Expeditions offers cruises between Seward and Homer that bring you face to face with the magnificent Kenai Fjords National Park and Kenai Peninsula. While there, you will explore the wilds of this remote environment, enjoying towering ice-covered peaks, an abundance of glaciers and stunning wilderness settings.

With no rigid itinerary, you'll get the chance to explore dramatic fjords shaped by ancient ice and anchor each night in remote peaceful coves. Surrounded by an array of wildlife, you can enjoy adventurous activities like sea kayaking, hiking, and beachcombing. Or if you're looking to go at a slower pace, simply relax onboard, reading a book, taking pictures or learning about the environs. This is truly an explorer's dream and the journey of a lifetime.

Train Ride
After an exhilarating Alaska Railroad train ride from Anchorage to Seward, ranked as one of the top ten train rides in North America by National Geographic Traveler, you will be greeted by your crew to help you with your bags for the short walk to the yacht, Sea Star.

Upon settling into your cabin aboard Sea Star, you'll have an hour or two to explore the coastal town of Seward, enjoying the historic downtown shops and services.

Step Back in Time
You will then drop lines and head out toward the Kenai Fjords National Park through Resurrection Bay and into Eldorado Narrows, witnessing beautiful ice capped peaks, sea caves, humpback whales, sea otters, nesting sea birds, Dall and Harbour porpoises, orcas, and grey whales.

You'll watch barking sea lions basking in the sun atop the pillow lava ledges. And then as you pass by Cape Resurrection, keep an eye out for grazing Alaska mountain goat, Dall's sheep and thousands of marine birds including pigeon guillemots, cormorants, murres, and black-legged kittiwakes.

Magical Fjords and Glaciers
You'll venture into Aialik Bay to visit the booming and active Aialik Glacier. Throughout this transit, you'll pass a diverse shore replete with a variety of coves, bays, and three major glaciers. Enjoy valleys, high mountain peaks, and pleasant lagoons as your scenic backdrop through it all.

You'll see sculpted rock arches, beautiful cascading waterfalls tumbling from the vertical cliffs and maneuver around massive icebergs enjoyed by lounging Harbour seals. Complete the day's journey with a beach bonfire, a perfect spot for making s'mores and watching the midnight sun make its way across the horizon.

Puffins and Islands
During your travel to the next fjord, you'll pass by the Chiswell and Harbor Islands, an Alaska Maritime National Wildlife Refuge, places that offer premier viewing of the largest seabird concentration on the Kenai Peninsula including thousands of horned and tufted puffins nesting in 500-foot tall sea stacks.

Inhabiting the rock ledges is a vast population of Steller sea lions keeping a wary eye out for any hungry transiting orca whales.

Fjords and Beluga Whales
On your way to the stunning Northwestern Fjord you'll pass through the narrow and scenic Granite Passage with dramatic views of Granite Island's 1,600 foot high vertical shoreline. As you head toward the Northwestern Glacier, step back even further in time as you view the ice age look of the Northwestern Fjord.

While at Northwestern Glacier, Sea Star is likely to drop anchor and shut off the engines so that you can enjoy the crack, roar and loud echo of the calving glacier as brilliant blue glass ice chunks break off and float toward you. Crackling ice, pristine air, vivid blues and grays, and ancient carved glacial rocks all tantalize the senses in this constantly changing environment.

As you make your way around the southern point of the Kenai Peninsula on your way to Homer, you'll explore McCarty Peninsula, Nuka Bay and Port Dick as well as remarkable and remote areas seldom viewed by other travelers. Watch for the resident Cook Inlet Beluga whales as you finish your spectacular Alaska sightseeing adventure cruise through the Kenai Fjords National Park. Once landed in Homer, stretch your legs along the Homer spit to check out the tasty restaurants, many art galleries, and stunning beaches before catching your flight back to Anchorage.

IMPORTANT NOTE: The Grand Kenai Peninsula Adventure route consists of traveling in open ocean waters at times and may not be suitable for those travelers prone to seasickness. North Pacific Expeditions highly recommends that you purchase either over the counter seasickness pills or obtain a prescription from your physician. The prescription patch is highly recommended. The yacht Sea Star does have stabilizers to assist with excessive rolling in the swells, however she will still move about in open water on your Alaska small ship cruise journey.