North Pacific Expeditions Prince William Sound Cruise –
Rail and Sail Adventure (including round-trip travel aboard the Alaska Railroad)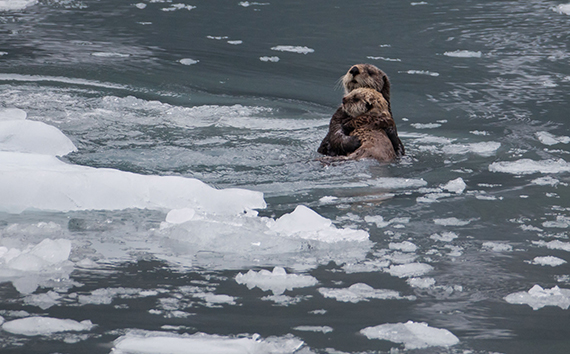 7 DAYS / 6 NIGHTS

SAMPLE ITINERARY: Seward to Whittier
Your Prince William Sound Rail and Sail journey begins at the Alaska Railroad train depot in Anchorage, Alaska. From there you will take the world-famous Alaska Railroad from Anchorage to Seward. Along this scenic ride you will be captivated by the picturesque coastal views of Turnagain Arm or maybe catch a glimpse of feeding beluga whales. As you wind your way through the Chugach mountain range keep your eyes peeled for sightings of moose, bear, bald eagles, mountain goats, glacial rivers, waterfalls and backcountry glaciers.

While onboard, the talented Alaska Railroad staff will share with you a fascinating narrative, filling you in on the history of the area and wildlife you might encounter along the trip. During your transit, you'll enjoy a sumptuous meal while relaxing in your glass dome car and watching the dramatic scenery. And when you disembark the train, you'll be welcomed by Sea Star's crew who will assist you with your bags on the short walk to the yacht. And once in Seward, you'll have time to enjoy a stroll through the historic downtown area, checking out the history and Native art in the region or even purchasing local handmade gifts.

Glaciers, Whales, Sea otters
Once everyone is settled into their comfortable cabins, Sea Star will depart Seward to head out on an adventurous Alaska glacier cruise. Each day will start with a hearty homestyle breakfast, powering you up for your exploration of the western fjords of Prince William Sound. Your day in the wilds of Alaska will finish with a sumptuous gourmet meal, enjoyed at anchor in secluded, quiet coves each night. Each day will bring something new as you tour places like Esther Passage, Harriman Fjord, Kings Bay, Icy Bay, and Resurrection Bay. In addition to immense calving tidewater glaciers, roaring waterfalls and picture-perfect coves, you'll also view an abundance of wildlife that includes thousands of seabirds, groups of sea otters, posturing sea lions, playful Dall or Harbor porpoises and maybe even black bears and river otters.

You'll travel through Port Bainbridge where humpback and orca whales are frequently seen as well as view the massive Bainbridge Glacier. The cruise will also include one day where you will pass on the outer sea coast of Blying Sound between Cape Cleare and Cape Resurrection for a chance to see feeding whales, orcas, porpoises, sea lions, seals, sea otters, and a variety of nesting marine birds including puffins, kittiwakes and murres. You'll see spectacular rugged coastlines, sea caves and towering cliffs – right next to peaceful quaint coves and bays.

Life Aboard
Choose to go sea kayaking, hiking, beachcombing, or simply sit back and relax in Sea Star's spacious lounging areas. When wildlife presents itself, the crew will make sure you get to spend extra time experiencing these special moments. They work hard to ensure the best experience as you watch a breaching humpback whale or hang over the bow to see Dall porpoises catching a ride in the yacht's wake.

Finish off each day with a decadent dinner carefully prepared by Sea Star's talented chef using the finest and freshest ingredients. And during the late Alaskan twilight hours, you might be lucky enough to get a little "dinner show" entertainment as you catch a glimpse of a frolicking sea otter, bright-beaked puffin, or even a bald eagle swooping down to pick up a salmon dinner of its own.

Journey's End
Your adventure comes to an end in Whittier on the last day of your Alaska glacier cruise. There, you will again have time to explore this fascinating Alaska small town. Maybe visit the Prince William Sound Museum, walk the waterfront, or enjoy a coffee or treat before boarding the evening train for a different – but equally stunning - scenic route back to Anchorage.