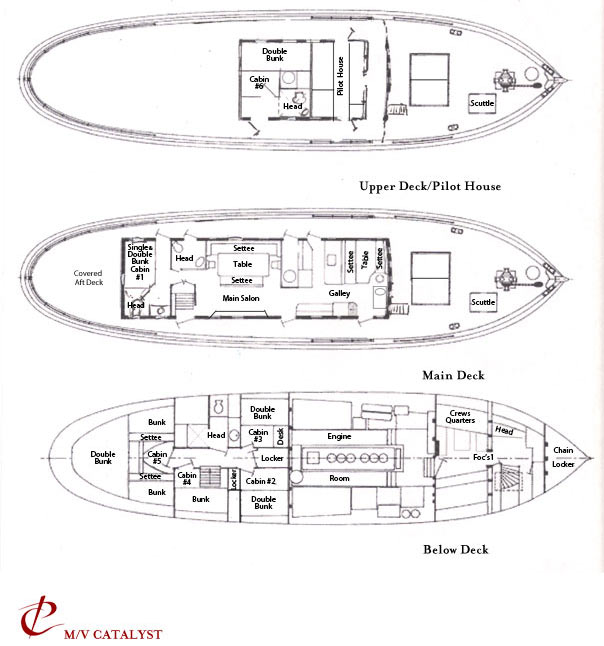 Length Overall: 74'7″ Beam: 18'4″ Draft: 9'4″ Displacement: 110 tons
Cruising Speed: 8 knots Main Engine: 6 cylinder 8×10 Washington Estep diesel, 120 h.p. at 450 r.p.m. (This is the original engine rebuilt and maintained)
Fuel: 3,000 gallons Fresh Water: 800 gallons with R.O. water maker
Range: 4,000 nautical miles
Accommodations: for up to 12 passengers and 4 to 5 crew

Construction: Oak frames, Alaska yellow cedar planked. Douglas fir keel with a 2-inch heel of Australian iron bark
Built by: Lake Union Dry Docks, Seattle, Washington, 1932
Designed by: Roland & Strickland
Navigation:2x Radar, G.P.S. and depth finders Communications: VHF, satellite and cellular telephones
Specialty Equipment: Underwater hydrophone, viewing aquarium, microscope, presentation projector, white board, two laptop computers, one for navigation, one for digital pictures, boat camera, stereo CD/Ipod player, twelve pairs of binoculars for guests.
Auxiliary Power: 12 kw generator and batteries Ships Power: 110 volts AC and 12/24 volts DC
Auxiliary Watercraft: 12-foot aluminum and 17.5 -foot inflatable utility boats, 6 double sea kayaks, and 3 single sea kayaks.
Chest freezer and refrigerator on front deck. Refrigerator in galley.
Marine Sanitation System upgrade in 2009.
Six cabins for guests. Lower deck cabins share one washroom with shower. There is a second head on the upper deck next to the main salon. Cabins 1 and 6 have their own head and shower. Crew has own head and shower below deck in quarters.