10/07/2017
Dear Marjy, The H's and the P's wanted to tell you again what a spectacular trip (Alaskan Dream Cruises small ship cruise and land tour) you put together for us, and thank you for one of the very best vacations any of us have ever had! We also want to issue an invitation to come visit us (great landscape, but no whales or puffins!) when you get the urge to travel. The photo was taken on the river trip with Brenda {Alaska Charters and Adventures} (between us we have 4 of her prints framed and hung as constant reminders of our wondrous adventures in Alaska) – and the painting {they enclosed} is by a friend of mine that does landscape water colors. Thanks again.
K, R, S and E

09/28/2017
Dear Marjy, Thank you so much for two perfect vacations (Viking River Cruise Europe cruise and Alaskan Inside Passage) with a third planned and hopefully many more to come. As you know better than I, planning these trips took some extra 'doing' as we are kind of 'particular'!! Looking forward to 2018, and yes, I will be emailing you soon with some questions!!!! In the past we tried to put some trips together, got frustrated, and just stayed home. Well we don't have that excuse anymore!! Your planning and attention to every detail, was flawless. Enjoy the rest of your we summer. Adios My Fair Lady,
M&C

09/21/2017
If I didn't reply before, the trip exceeded our expectations in every way. Your recommendation (Alaskan Dream Cruises small ship cruise) was spot on. Everything was first class. Crew, 'leaders' staff, food, rooms, beds, . The staff photo log (300 +) sent via drop box was a great added feature. At least 2 couples that we have shared with have asked for referrals to you.
J&N H

09/13/2017
Oh yes!! Hello Marjy. the cruise was great. The staff on the boat (Chichagof Dream, Alaskan Dream small ship cruises) were warm and wonderful. The sightings were really good. Meeting, greeting and ground transport was good. We had a great time, I had never walked on glacier before. The bears were great, the whales not much in evidence. Neither you nor the cruise line can do much about the hotel accommodation, let us say "just adequate". Sitka was not really good, because there were people in the street shouting and making far too much noise until way after 2:00 am. By all accounts, the" Sitka Hotel" in the main street was about the best, no-one had very much to say about the hotels except the couple that stayed there. (Ed note, they stayed at Totem Square Hotel and Marina as their first choice was sold out). I would very heartily recommend The cruise line and all of it's people. We laughed at the big boats as they stopped and we did not. We thank you for your most helpful assistance in setting us up on this very good holiday. When we are in the mood for another Alaska trip we will let you know. Thanks again.
JB (another very satisfied customer)
In another later email the guest added "They (the crew on the Chichagof Dream) were outstanding AND they beat all expectations. That to me is a real signal of Excellence"
09/08/2017
Thank you. We had a wonderful time! The rain didn't cause any major issues. It was a bit rainy while in Talkeenta, but we still were able to walk around and see the town. The Denali bus tour was amazing and I am glad we went all the way to Kantishna! We got to see quite a bit of wildlife and Denali even peaked out a bit, so we have a picture of the tip! The cruise was very nice as well and we enjoyed all the ports. One night we were able to see them load the local pilot on the boat - that was pretty amazing. Alaska is an amazing place and we hope to visit again.
CS

09/07/2017
Hi Marjy, We looked for you in Wrangell and figured that something had come up. Maybe next time !!! Capt Eric was great and we thoroughly enjoyed the cruise. (Alaskan Dream Cruises small ship cruise) His voice was kind of a combination of George Carlin and the "most interesting man in the world" beer commercial guy. Loved it. The cultural aspect exceeded our expectations and the boat was homey and comfy. A pod of breaching whales was probably the highlight for me on that portion of the trip. Camp Denali was a fantastic experience as well. Hiking and wildlife. It took a little adjusting to this more rustic part of the trip but we had it down by the second day. Close up view of Denali and the mountain range on the second morning was AWESOME. I will forward a few pics of us. Thanks for all the planning. We did not have one little glitch and all accommodations were great. Oh, I forgot, the cruise folks forgot to pick us up from the Ferry in Ketchikan but it was no big deal. Cape Fox picked us up. Little anxious here about Irma's path and prepping just to be safe. Thanks again,
J&B

09/07/2017
Hello again Marjy, The whale story was quite an episode. (Un Cruise Adventures small ship cruise) I saw the pod of whales from my room window (I really like the room, by the way) as there were noises outside that wakened me about 2:15 AM or so. I saw 3-4 whales, one coming right out from under our boat and I thought "our boat is going to tip over"! Then I kept hearing whale sounds the rest of the night, along with metal scraping on metal and chains being pulled. I didn't realize we were anchored and thought it odd that the whales were still with us 3-4 hours later. I never slept a wink this night. It was't until morning that we learned what had happened - one whale got the chain in it's mouth while feeding and wrapped around his lower jaw around the outside of his mouth. Needless to say, all were worried about the safety of the whale. Rescue teams came in and figured out the plan to release the whale which happened about 1:30 Sunday afternoon by cutting the chain. I got a good video of the whale slowly moving away from our boat and finally breathed before going further away from us. At this we no longer have an anchor and couldn't keep our course without one so we had to go to Petersburg. This changed our agenda and activities for the first 3 days. In Wrangell Un-Cruise gave us a bear viewing as compensation for the incident. This was amazing to see the bears up so close in their own environment. We went to Anan - I think everyone really enjoyed this. All in all the trip was great. We managed to keep on schedule, sometimes even ahead as when we drove to the Whittier tunnel and arrived by 9AM!!! The good thing was we saw moose on the drive there and got to go to the Whittier museum and get a quick bite before the Ferry ride. Along our drive to Chitina we never found a rest area of any sort and were getting quite worried about our bladder control. Then a lodge appeared and we stopped there as they looked open - they weren't. We looked around and a woman finally emerged to let her dog out. She spoke no English as she was Russian. I tried to use the little bit of Polish I know to communicate with her that we needed to use the facilities. Finally she understood our needs — thank goodness! We used the facilities and gave this woman a hug and got on our way. The only other "issue" if you will was getting to the Denali Cabins. We weren't sure if we had passed them and there were no road signs for much of anything and we had no cell service to call. We stopped at a pizza joint and the guy was nice enough to call the Cabins to get the mile marker - we learned mile markers are pretty important along much of the Alaskan Hwys. We had not passed them so kept going about another 5 miles or so to them. All was good! The rude photo taker on Talkeetna Air ride did really interfere with peoples's view and picture taking opportunities - Beth mostly. We were planning to sit in the back of the plane and the pilot gave those seats to a taller gentlemen for leg room. We were bummed about not getting those seats then Beth had the rude guide with his camera blocking every view of hers. I had a metal bar in my sightline along with some obstruction for the rude guys long reach camera holder. The pilot gave Beth a better seat for the ride back and we though we were going to see Denali again but never did so picture ops were lost. It was a beautiful day to see Denali though as it was sunny and warm and the clouds dissipated. Beth complained at the office and the woman said she couldn't really refund since we went through a travel agent. Apparently that was not true. She gave Beth a sweatshirt as compensation. (ed note, we did get a refund) Loved Kennicott, the glacier walk, Seward Aquarium was awesome (had a baby walrus 9 weeks old they rescued), glad we went to Homer - charming and fun there, Denali air was much better than the park itself but glad we saw inside the park too, and the cruise was good although the whale tale did put a damper on the activities we actually did but very nice folks - crew and passengers, good food and drinks. Overall a great trip!!! Thanks for coordinating everything for us. As I said, most everything went well and we totally enjoyed our visit to Alaska. I will send pictures separately!
Chris P (traveling with Beth H)

08/31/2017
Marjy,
It was great to meet you also. I attached a picture of "B" and I on Prince of Whales Island at Thorne Bay. I have one from our glacier excursion too but I can't download it at the moment. It was cold, wet and windy up there but what a thrill! (Helicopter Glacier Excursion at Juneau) The trip was amazing and I'm so glad we got to finish our cruise this time. (Alaskan Dream Cruises small ship cruise) We did so much, saw so many things that we still are going through pictures and trying to decide what to put in our photo book. thanks so much for all your assistance in making our dream vacation come true! We tell everyone about you!
KM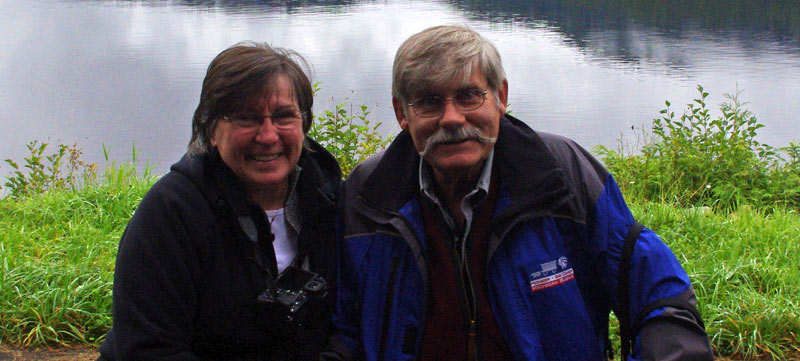 08/29/2017
We had a wonderful time, everything was prefect and we credit it all to YOU. You are amazing Marjy!! All our flights, tours and connection went smoothly and efficiently." F" got his fish. Alan (All In Charters) was so nice and helpful. We plan on having fish fries for our friends as soon as the weather cools off ( it's in the high 90's everyday), totally out of the norm for us!!!!!!!!. Thank you again for all four of our trips that you arranged for us...we brag about them all the time (it's a little embarrassing to hear "F" go on and on but it's the truth). Take care relax a little life is too short.
C&F
08/04/2017
The trip home was long, overnite and sad because we were leaving Alaska. However, it always feels good to get home. Many thanks for doing such a stellar job. You will forever be our 'Majic Marjy.'
R&S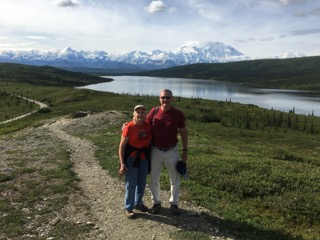 07/25/2017
This is on a hike from Kantishna. We saw most of Denali which was fine with us. We enjoyed the Roadhouse and Jim had great fly fishing in Moose Creek right out front. The Alaskan Dream Cruise (small ship cruise) was wonderful, probably the highlight. Loved the Goldstar train and happy we went for the upgrade - well worth it. While we loved the location of the place in Homer, our room was pretty strange - packed with huge dark furniture with no comfortable place to sit and poor lighting. Sunny our hostess was nice enough. We were happy not to be down on the spit. Sorry for my delayed response but I came home with a nasty cold and am just catching up. Thanks for all of your help. All went smoothly with a small hitch at Comfort Suites our last night which was resolved fairly quickly. We had a great trip.
GN

07/08/2017
Hi Marjy, Thank you so very much for all of the arrangements and help with guiding us to the right people and places! We had a magnificent trip! We had to return to work right away upon return so we are still in the midst of unpacking, laundry, uploading photos and videos, etc. I'm planning to put together a DVD video slide show but that will take a while. We did get views of Denali on our day long bus trip to Kantishna Roadhouse with Linda Dinkbaum driving. Words cannot really adequately capture the majesty of it. Unfortunately it was cloudy for our glacier landing so we couldn't see the summit that day but caught another glimpse the morning we left Talkeetna. We saw lots of wildlife in Denali NP but also on the Fjord Express from Juneau to Skagway. And on the sea kayaking we saw 4 orcas chasing and killing a Dall porpoise with several humpbacks appearing to try to intervene. It was sad to see the glaciers so melted. They won't last much longer. The only hitch was at the Juneau Hotel as you know. Everything else was very smooth! Thanks again! Feel free to use us as references if needed. We'll make sure to send folks to you if we know of anyone planning a trip to AK!
The "A" family.

07/07/2017
Hi Marjy, I'm glad we were able to meet you in Wrangell. Thank you so much or all your help planning the cruise (Oceania Regatta mid-sized cruise) and patiently answering all our questions. It made all the difference. I will gladly recommend your services to others. Thumbs up on the cruise from the S family. Overall, the weather was better than expected. We were ready for the worst but pleasantly surprised how much sunny and pleasant weather we had. The helicopter ride to the glacier was the best; what a glorious day. Thanks again. All the best,
Joan

07/06/2017
Marjy, Thank you so much for all your help. We had a great time! Alaska Dream (small ship cruise) is a great organization; we were treated wonderfully. Hope you have a lovely Summer.
RU
07/05/2017
Hi Marjy,
It was nice to hear from you. It took us a few days not to feel a little spacey, readjusting to being off the boat. It was a wonderful land and water trip. We saw all of Denali & one of the guides at Kantishna Roadhouse shared his skiing/hiking the summit last year in a power point presentation, which was moving. We also loved that we combined flying over Denali with flying out of the park. (Another fun experience we added once we got to the Grande Denali Lodge was nearby Cabin Nite, which was a dinner theater about Fannie Quigley & we had already read a book about her). The rafting was great! We loved Seward and the dome train ride had gorgeous sights. We had the time to do a guided tour of Exit Glacier & the Sea Life Center as well as the Kenai Fjords NP cruise. We were surprised when our ride back to Anchorage was just Fred and me in a van. It was nice as we stopped at Portage Glacier as well as at the wildlife conservation center. You know the foggy day & our plane cancellation to Lake Clark. We were glad we didn't have much time in Anchorage but we did see the Alaskan Native Heritage Center. We were so pleased that our luggage was handled by the trains to our hotels. Everyone in Alaska is super helpful. The land portion went so well. We were pleasantly surprised that you found an alternative to see bears! We were pleased with the small boat experience with Alaskan Dream Cruises (small ship cruise). We liked the wild life viewings, the dib & kayaking, the walks along shore, visits to small communities as well as the delicious food. I thought by sharing our thoughts it might help you in planning for others. You helped us have the best time in your state. You are delightful, so kind and on top of everything. Our thanks,
J&F M

07/04/2017
Hi Marjy! We made it! And what a wonderful time! I meant to reach out to you. Still catching up at work - thus the working on the holiday. I would have so much to say. But just to mention the highlights:

1. Dinner at wonderful restaurant in Seattle in hotel section (will get you the name), Hotel Mediterranean highly recommend, as well as dinner in the needle.
2. Wonderful accommodations and outstanding team on Admirality (Admiralty Dream of Alaskan Dream Cruises small ship cruise) !
3. Helicopter ride - out of this world fun! George loved the doggies!
4. Crashing glaciers in front of my very eyes!
5. 5 Humpback whales playing for over an hour under the 10:p.m. Orange/pink/blue Sunset on Father's day!
6. Slide show we will receive from our naturalist guide - Michelle
7. Last but certainly not least - our wonderful trip coordinator - MARJY WOOD!

I will refer you forever! May your summer be as fantastic as you are. I admire your hospitality and your organizational skills. Take care and thank you mucho!
N.U.
07/03/2017
Hi, Your phone call did the trick! We were moved to the third-floor and overlooked Ship Creek the next two times we used the hotel! We had an excellent vacation (small ship American Spirit and custom Denali land) and we thank you for all that you did for us! If we know of anybody going to Alaska, we will be sure to give them your name! Cheers!
W&D
06/29/2017
Hello and yes we had a fabulous time! I will try and send a pic soon! Thanks for all your hard work getting everything together for us. Our favorite part was the flight seeing tour to Denail (but we did not get to do a glacier landing due to clouds) but it was still AMAZING! We had the best weather for our Tundra Tour and for our Glacier Bay day with clear skies. We did see the peak of Denali. Thanks again,
MS and family
06/29/2017
Thanks Marjy for all your help. We'll look for a good photo and send it along! We had a great time, thanks to you. We're back at our summer camp in the Adirondacks where the current weather is sort of like it was in Alaska: cloudy and rainy….. Are we jinxed? Cheers,
PA

06/25/2017
Marjy,
We had a great time! Ship staff (Admiralty Dream of Alaskan Dream Cruises small ship cruise) was pleasant and helpful. The naturalist's on board were terrific, I'd join a trip again if they were leading. We didn't think the weather was bad at all. In fact the day and a-half we spent in Glacier Bay was sunny, can you believe? Food was outstanding, desert's by Sunshine the pastry Queen was stunning. Hate to see what the scales will tell me. I'd go on a small ship again, maybe to the sun in February or March.
KT

06/14/2017
Marjy,
We had the most wonderful time in Alaska! (Denali land tour and Un Cruise Adventures small ship cruise) The train mix-up was the tiniest of glitches, as far as I am concerned. The day turned out very well, thanks to your intervention and to the most attentive staff on the train. We were relaxed enough at the end of the ride to get our bags from the depot to the airport where we picked up a rental car and drove to Homer, arriving there at 11:30 PM! I will definitely get a picture to you; it will be hard to pick the most memorable spot! You did an amazing job of coordinating and advising. We are so grateful. Our next trip to Alaska will include Wrangell, so that we can thank you in person! Our best to you,
P&R M

06/09/2017
Marjy,
Things have been crazy since we got back, but wanted to drop you a quick note. We had a FABULOUS time! Only 17 passengers on the ship helped make it feel like our own private yacht.(Alaskan Dream Cruises on the small ship the Alaskan Dream) Loved Capt Eric and the whole crew. Didn't mind the rain...when we needed it to be nice it was. Our bonus was on the first day getting to experience bubble net feeding. Thanks for helping us book a trip of a lifetime. We will be and have been recommending Allen Marine.
B, & R. M.
06/06/17 via email:
Hi Marjy, Home now. SE Alaska was amazing! (Alaskan Dream Cruises small ship cruise) A few pics attached. Thanks again for all your help. Hopefully I can bring my husband and girls back sometime! Take care
"A. G"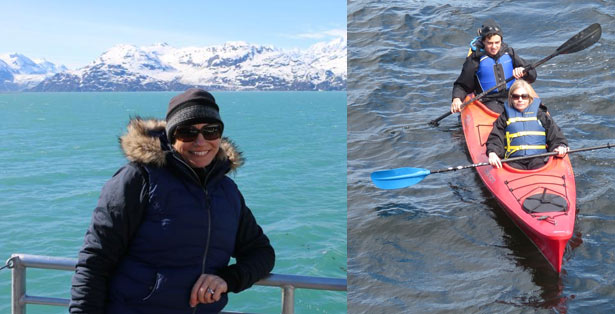 06/06/17 via email:
Marjy, The weather was perfect and the Un-Cruise boat (Un Cruise Adventures small ship cruise) and crew were wonderful. All of the arrangements you made were right on. Your recommendation for the Safari Explorer was great Thank you so much for all of your help I will certainly recommend you to my friends. All of our pictures are on the camera, so I will send you one as soon as I find someone smart enough to get them in an e-mail. thanks again
L&S B

06/05/17 via email:
Marjy,Fabulous adventure. Loved every minute. (Alaskan Dream Cruises small ship cruise) I'd return in a heart beat! All went perfectly.Denali made the almost briefest of appearances??
A