09/13/21 via email:
Marjy,
Thank you for all your help making my delayed Alaska trip so wonderful, especially quickly addressing the last minute lodging change in the Denali area. My trip was amazing.

I enjoyed the Talkeetna boat ride (that included a boxed meal) and the photography tour -- the other two customers cancelled, so I had a private trip where we went to some of Todd's favorite photo spots since he didn't need to give me camera lessons. The Tundra Wilderness bus let me get a bit farther into the park and I was able to see caribou, but I found that tour a bit lacking. The driver pointed out golden eagles flying on the left side of the bus, where I was sitting, but she stopped the bus next to a tree so my row and several behind me didn't see anything but the tree. We did stop a few times where the scenery was good. I realize with the late closure and it being Labor Day weekend, my tour options were limited. I'm sure the experience depends on the driver. My 4 drives as far as I could go into Denali, did let me get close to moose a few times, see other wildlife (some a bit beyond the best range of my camera, but I did see them) and the fall colors were amazing.

The Alaska Dream cruise experience was incredible. Hiking and/or kayaking almost every day, the stop at the hatchery (bears!), the visit to Petersburg, glaciers, and whales and other sea life. The crew was great, offering to have a crew member go kayaking with me if I couldn't find someone else in need of a kayaking partner, so I wouldn't miss the experience. The food was very good, the cabin was comfortable. I can't recommend them enough.

At Chena, I got a slight northern lights show, which started when I was in the hot springs. To make it a fully Alaskan moment, a moose cow walked by at the same time. I liked the hot springs. I visited their ice museum, but found that a bit lacking. I probably would have liked their geothermal plant tour, but didn't have time for it.

The flightseeing trip over the Brooks Range and to Wiseman was great. I wasn't so sure about flying in such a little airplane (without the draw of polar bears), but it was a great experience. The pilot's narration of what we were seeing was good. He talked a bit about what it was like flying in the Arctic and delivering cargo to remote villages. The scenery was amazing and I was able to get some decent aerial photos. The visit to Wiseman was really good (although another woman grumbled about it). We met with long time Wiseman resident Jack who opened up his home and told us all about subsistence living in the Arctic. I found it fascinating. The van driver also filled us in on life in Coldfoot.

The Alaska Native Heritage Center was my favorite museum. I learned so much and particularly liked the video interviews of native Alaskans talking about how statehood changed their lives.

I'm going to talk to my friend at the St Elias Glacier Guides about their definition of a moderate hike. I enjoyed it, but it was a more strenuous than moderate and my fitbit showed it was close to 10 miles.

It is going to take me months to get though the 15,000 or so photos I took. I will also be working on reviews of the lodging and tours, but it will take me a while to get to those also. I will also write up reviews for you. I can write one on Trip Advisor, please let me know if there are other sites that are good for travel agent reviews. My trip was so wonderful in large part because of the work you put in. Thank you!

I've only posted a few photos so far. Most nights I was too exhausted after hiking or driving to do more than transfer photos to portable hard drives. If you are interested, I'm posting them on Instagram.

KG

09/07/21 via email:
We had a marvelous time! Perfect weather. The cruise was great, plenty of whales, amazing glaciers. Kenai Fjords was our favorite place.
Full and majestic views of Denali! No Northern Lights this trip. Alaska RR was wonderful.
If I had to change anything, it would be to stay at a B&B instead of the Hilton.
We will definitely return.
S&J

08/31/21 via email:
Farewell, Alaska. You exceeded my expectations!

I am home, tired and happy. Marjy, thank you for all you did to make this an outstanding adventure (small ship cruise plus custom land tour to Denali, and Kenai Peninsula). Trip of a lifetime!

B.W.

08/18/21 via email:
Hi Marjy
Good to hear from you! It is 12:43 Eastern time and I am still on Alaska time, I think, 8:43 PM. E is long asleep. I will be soon, I expect.
Anyway, just wanted to thank you for a GREAT trip! It was really wonderful and was everything we hoped it would be and more! You were great in setting it all up for us!!!!
I will share more, including photos, when I come up for air and organize our pictures in days to come.
We have lived in northern California on the coast for some time, so were not surprised or upset at the clouds, fog and rain. No big deal. We only missed that one fly sight and it was ok to miss — nothing can be done to make visibility appear in that kind of weather.
Only thing maybe to review is — the train to Fairbanks was too late to get us to the rental car that night. We picked it up early the next morning. I brought up that we will only have the car for two days, not three, through no fault of anyone. The owner (I assume he was the owner) was very nice but said since he reserved the car and couldn't rent it, we had to pay for all three days. He wasn't going to change his mind and I wanted to drive the car to Chena HS, so left and paid the three days, but don't think I should have been made to do that. I am hoping maybe our insurance can reimburse me for the charge or maybe visa can help us receive the funds for the day we rented the car and didn't have it. Any thoughts on my next move?
Again, the man was respectful and helpful in getting us a ride to the airport when we returned the car to him; I don't have a personal issue with him; just don't think I should pay for a day when I didn't have the car. (Yes, I called them that the train was running late and I would get it the next morning — they knew the situation as it unfolded.)
Small item among a GREAT two plus weeks in Alaska, my new favorite state.
Thank you,
W&E G

08/03/21 via email:
Marjy
We deposited (for another trip) based on our love of the UnCruise experience and with an open mind about the next cruise, with the timeline and destination yet to be determined by COVID – even they are not sure which ones they will be running!

THANKS AGAIN for your great service, especially on this trip where our crisis and our last minute desire for a glacier walk called upon you to make a speedy response. See next email for a few favorite pics, in case your clients ask what it's like.

Regards,
Anonymous




07/20/21 via email:
Hi Marjy
I've been meaning to write you since our return but got caught up in "re-entry". We had a a great trip (custom land tour) and from my perspective it was all pretty flawless. The one thing we didn't anticipate was the need to make dinner reservations way in advance. I think you may have suggested that but it didn't register. Most places had hour and half to 2 hour waits. We figured it out and managed accordingly. The weather was good - it only rained the day we drove to Homer. It was clear enough to see Denali on our way to the lodge - which according to our bus driver only happens for about 30 percent of the people. Spectacular! Also wanted to tell you the flight from the lodge to the train was also seamless. We sent all of our bags (which I would recommend for anyone) on the bus. The air team picked them up (they have dedicated staff at the train station), checked them in for us and got our train boarding passes - their was no timing issue at all. That flight back was a highlight as the pilot got us within a half mile of a glacier on Denali. It was much better then having to take the bus out which while wonderful on the way in would have been a very long trip before a train ride. We were grateful to be able to do that. D and S caught their limit of Halibut by 10:30 in the morning on their charter so we each came home with 30 lbs of fish. The bear viewing was incredible.

Thank you for all your assistance. For D and I it met all of our expectations and was definitely a trip of a lifetime.

All the best to you,
P&D D

07/10/21 via email:
Marjy,
My input. Others may differ.

The boat/ATV trip (Sitka Outfitters) to Kruzof Island was one of the best parts for me. I would definitely recommend that.

The cruise (Alaskan Dream Cruises) was amazing! And the size was great. I loved how informal it was. You could wander into the bridge any time; get something to drink anytime; you could always find a place to land – not crowded except when everyone was together and that was for usually short periods. The toilet pump quit working (or working well), so we made an unscheduled stop in Juneau. But they pivoted and sent us all out on a whale watching trip while they worked on the pump. It was cold and rainy and amazing; I loved that part. (BTW: Emily, our naturalist, said hi.)

So glad we had the opportunity to do laundry in Juneau. That hotel was the best idea.(the Juneau Hotel)

Flight from Juneau to Anchorage was a bummer, (their original flight was cancelled) but you helped us get booked on the next best choice. Which was good because we were at the end of the line of 70 passengers (I think there was literally only one person behind us).

Big Swig Tours was fun, but given the long flight from Juneau, in hindsight, I think I would have preferred a simpler afternoon. Maybe walking, shopping, etc. It was our choice, not yours, and no way to know the flight was going to change.

Katmai was incredible and worth the whole day trip. M and I used our bug shirts there all afternoon. I recommend the Original Bug shirt; B&D might sell theirs; I don't think they used theirs at all. But I used mine in Katmai and in Coldfoot.

No trouble getting into restaurants in Sitka and Juneau; in fact, one of the crew recommended a restaurant that they would normally not recommend because of the crowds. We were able to walk in and get a table. But Anchorage was another story. Many restaurants weren't open on Sunday or Monday and those that were open were completely full; others had closed during the pandemic and did not reopen. We did find places to eat, but none of the well-known places.

Also, we discovered that the Anchorage hotel did not provide daily room service. It was make-your-own-bed, etc. That was true in Denali also, but at least there they warned us. Not a problem, but it would have been nice to know when we checked in. I think that is something new that started with Covid and labor shortages, but I bet it will continue now it is in place.

Gold Star train was great and Denali Bluffs was a nice place. Again, we had to hunt for a place to eat the first night. The Bluffs hotel restaurant was completely booked, with people still waiting late the evening. Many of the restaurants in the "downtown" area were not open at all. We hiked up to the Crows Nest and they fit us in even without a reservation. Turned out for the best – we had great food and a great view.

Kantishna trails trip was long and no time for hiking. We had unusually good views of Denali all that day and the next. And we saw lots of the big 4 during the trip (moose, bears, caribou, and Dall's sheep). So that trip and the ski plane to the glacier were worth it. But we did have several long days of driving/flying without enough time to hike or get more than a short walk in.

The trip to Coldfoot was interesting. The simplicity/rustic camp didn't bother me (think old dorm room but with personal toilet/shower), but again, a long day of riding without sufficient time for exercise.

M and I did not do the packrafting. The guide talked us out of it and offered a float raft trip instead, which was pleasant and not so much work. He said the pack was 20-25 pounds which had to be carried for a mile, which I probably could not do. And M's knees were hurting, so we opted for the float raft trip and a van drive up to the pass instead. D&B took the pack-rafting trip, so they can fill you in on details. They said the pack was more like 15 pounds and it was no more than half a mile, so I could have done that. (But there was a very strong headwind, so I would have had trouble with the paddling.) It seems like this company is still trying to find its way and not too sure of what it advertises.

Chena Hot Springs was worth the trip, although it was buggy and smokey from the wildfires. It was a bit of a shock seeing all those people at the resort after the remoteness of Coldfoot. In hindsight, I would have liked to stay here longer – maybe horseback riding, massage, etc. After all, we had 12 flights in total and not one horseback ride during the trip!

The ATVs were fun and the sled dog cart was amazing. Not a long ride, but definitely worth it.

That's all I can think of for now.

Thanks, A.S

07/05/21 via email:
Hi Marjy
Just want to say thanks again! We had a great time (Alaska Dream Cruise) and everything went smoothly :-)
JS family

07/05/21 via email:
Hi Marjy
First, just a note to say Thank You for all that you did to make my trip to Alaska so wonderful (American Cruise Lines). Alaska is the most beautiful place I've ever been and it was unquestionably one of the best trips I've ever taken.

Having said that, of course I want to come back. I've found a company that I want to ask you about. (and now we are beginning to plan another trip!)
CH

07/01/21 via email:
Hi Marjy
Just wanted to let you know that our vacation was fabulous. (UnCruise small ship cruise and Denali land package) The weather couldn't have been better with mostly sunny skies and temperatures close to or in the seventies. The wildlife was plentiful with whales everyday. The crew and services on the cruise were fantastic. Everything went smoothly and we were well taken care of . Thanks to your advice and diligence the entire trip will be one that we will treasure for the rest of our lives. Thanks again for helping to make this trip such a fantastic experience.
C & B C

06/28/2021 via email:
We got home early this morning/late last night -about 1:30 am EST. Great trip. Just thought you might like a little feedback….

Our favorite lodge was definitely Tonglen, although the Silverbow was a great boutique hotel - and for some reason they upgraded us to a huge beautiful suite (on the third floor with no elevators to help with luggage?!?!). We enjoyed our brief time in Juneau. Our least favorite lodge was Angels Rest - so small & remote, no room for much - even had to use the sink in the bedroom for teeth brushing. It is a stretch to say it has a view. We certainly weren't suffering, but never met the Inn Keepers, the place needs a good exterior cleanup, repairs, & landscaping.

Our most favorite activity was the float plane trip to Pack Island. Great outfitters with outstanding trip leaders. Beautiful bears. Second, we really enjoyed Talkeetna & the airplane ride to Mt McKinley!!

Third favorite was our boat trip in Seward. We saw lots of humpbacks, Orcas, sea lions, sea otters, harbor seals, etc and the guide was great.

Unfortunately, the weather was so crappy in Glacier Bay, we skipped the kayak trip (thought I'd freeze in the rain!). We enjoyed the Inn & Curtis & staff, but not all the cold rain. Fortunately, they have a wonderful fire pit!

Don't know what I would suggest to improve on our itinerary. You are fantastic! Traveling from Anchorage to Gustavus did take an entire day, which is kind of unfortunate. But still glad we did all that we did. Thanks so much.
L&D D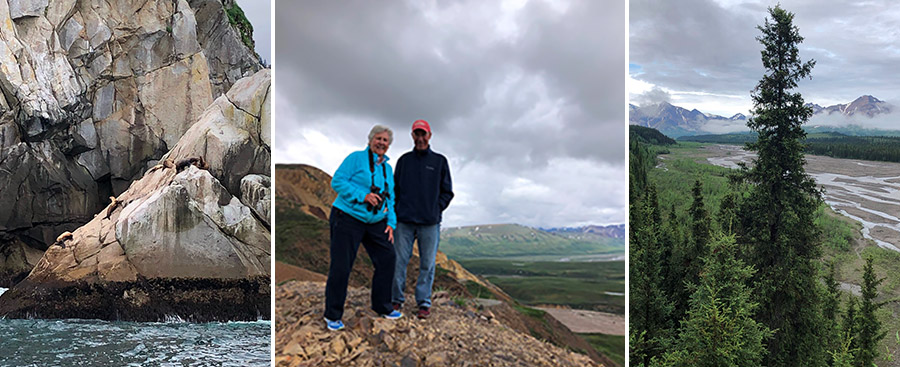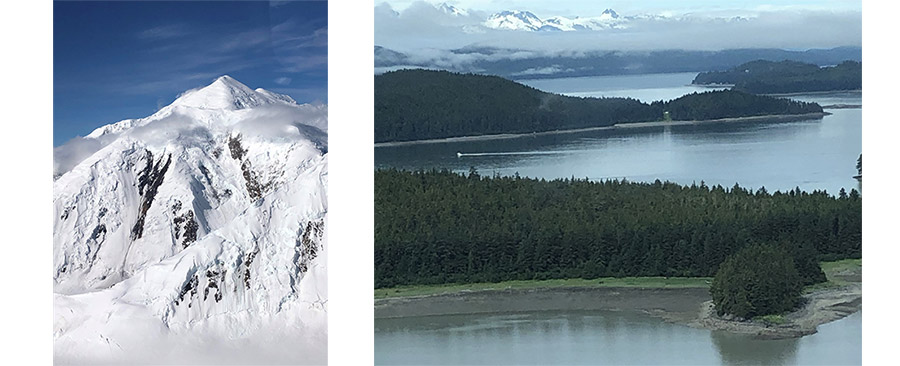 06/21/2021 via email:
We are still working on getting back on track after the trip, but progress is being made. And I've been sifting through my photos to find some to show you.

Alaska Airlines was amazing! Our flight home was very prompt - in fact, we got to the Ketchikan airport in time, we thought, to have a quick bite of lunch, to find that they were already starting to board the plane 10 minutes early! That is unheard of! We gobbled our lunch and boarded, and the flight even took off early! So we got to Seattle in plenty of time to make our connecting flight. That was lucky, because they boarded that one early too! Next time we fly Alaska, though, I think we will use that option to pre-order our meals.

Juneau and Ketchikan were great. Our one frustration was that on most of the days we were there it was Sunday, and many places weren't open, or opened late and closed early. And it seems that Ketchikan has a lot of businesses that close on both Sunday and Monday! But I did my bit to stimulate the local economy - bought several souvenirs! The hotel at Ketchikan was wonderful - a big comfortable room with a splendid view. The Silverbow Inn in Juneau was nice, too, although their breakfast was really very basic - bread for toast, hard boiled eggs, yogurt. The people there were very nice and very helpful, though. I liked arriving the day early in Juneau, especially since it would have given us time, as you say, to sort out any baggage issues. By the time we got to Ketchikan we were pretty well drained, so we didn't explore any of the hiking options there. Mostly used the time to catch our breath and get ready for the journey home.

We really loved our UnCruise adventure! The staff really works very hard to make the experience fun and informative. The food was great, too. In fact, a little too great, since we find we have each gained a few pounds! The guides make every effort to learn our names and preferences, and any time one of us had difficulty on the trail they were right there with us, making sure we made it through. We did the kayaking, the bushwhacking, the hiking, and the skiff tours, and learned a lot about the wildlife in Alaska. Evenings the guides each gave a presentation on some aspect of the area - history, animals, plant life, etc. We even had a talent show the next to the last evening for guests and staff alike! Dave read "The Cremation of Sam McGee" from a book on the bookshelf, which everybody seemed to love.

You are right about the weather. The first week just about every day was cloudy and rainy. We still saw some amazing things and had a great time. The second week was completely different. Almost every day we had blue sky! I think the highlight of the trip was the morning they woke us at 6:30 to let us know that we were surrounded by whales! Quite unexpectedly we found ourselves in the middle of a group of humpback whales feeding on the huge dark mass of fish close to the ship! I am sorry that my little cell phone camera wasn't up to capturing wildlife at long range. But watching them feeding was amazing!

I have attached a few of our photos, which you can include if you think they're good enough. Afraid to try sending more with a single email - sometimes too many pictures chokes the computer (or something). Let me know if you want any more. Really tough to narrow them down!

Thank you for all your help with this trip! We would definitely like to travel UnCruise again, although we can't say when. Got a large backlog of trips on our list after the year-long delay. And I'm very sorry not to have been able to meet you. Maybe next time!
P&D S