8/23/2019 via email:
Very happy first time Un Cruise small ship cruise guests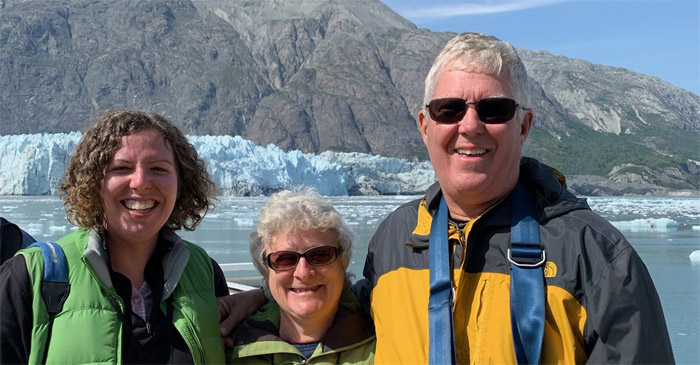 8/23/2019 via email:
Thanks so much! The whole trip was just wonderful, and we could not have asked for better weather. It was pouring down rain the morning we left so I felt sorry for the people just starting their vacation. Thanks so much for everything. I referred you to a person also, so hope she will follow through with it.
MR and DR.

8/13/2019 via email:
Hi Marjy, It's taken me a while to pick out a few pictures since we took so many!!! Life has been busy since we got home with visits with 2 of our kids, gardening, and getting the house put back together after that tree fell on our roof and deck in April. But all is coming to a close now that Fall is just around the corner. We had a great trip with only a little rain in the afternoons. Denali was perfect! we saw the mountain every day! Only disappointment was it was too foggy to see the Hubbard Glacier even though the ship was able to get up very close. Oh well! I'm sending you pictures of us on the ship (Regent Seven Seas Mariner). It was great! We loved the size, the service, the food...everything! Thanks for helping us arrange this. We were able to see several whales on the whale watching excursion too, but it poured the whole time😖. It was so much fun to see a female moose with her twins right in the parking lot at Denali! We saw lots of other wildlife on the 12 hour bus tour also. Great memories! Still wish we could have met you!
CK



8/12/2019 via email:
Marjy, Alaska was amazing. We took full advantage of all the daylight to see as much as we could, and it was great. We were not able to book a halibut trip, but we did charter a salmon fishing trip on Kachemak Bay, and we were able to ship home 15 lbs. in Salmon fillets. Will had a great time on the fishing trip. As for the SUV, we ended up with a Expedition Max, and it was great (I may buy one in the next year just based on the experience). It was definitely better than the minivan. I could go on and on, but in short the trip was fantastic. Thank you for all your help, as there is no way we could have planned it without you. Thank you,
D&M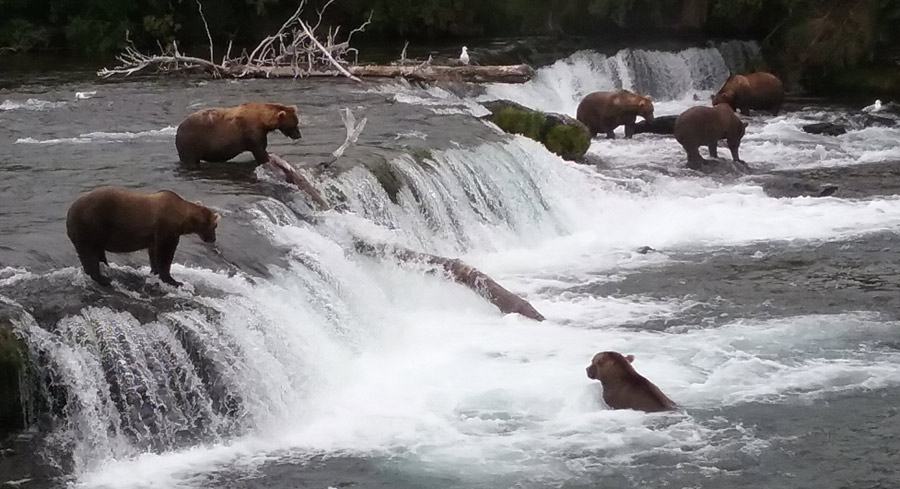 8/12/2019 via email:
We had an AMAZING time!! You were wonderful and Alaska is beautiful! Thank you so very much!
The W Family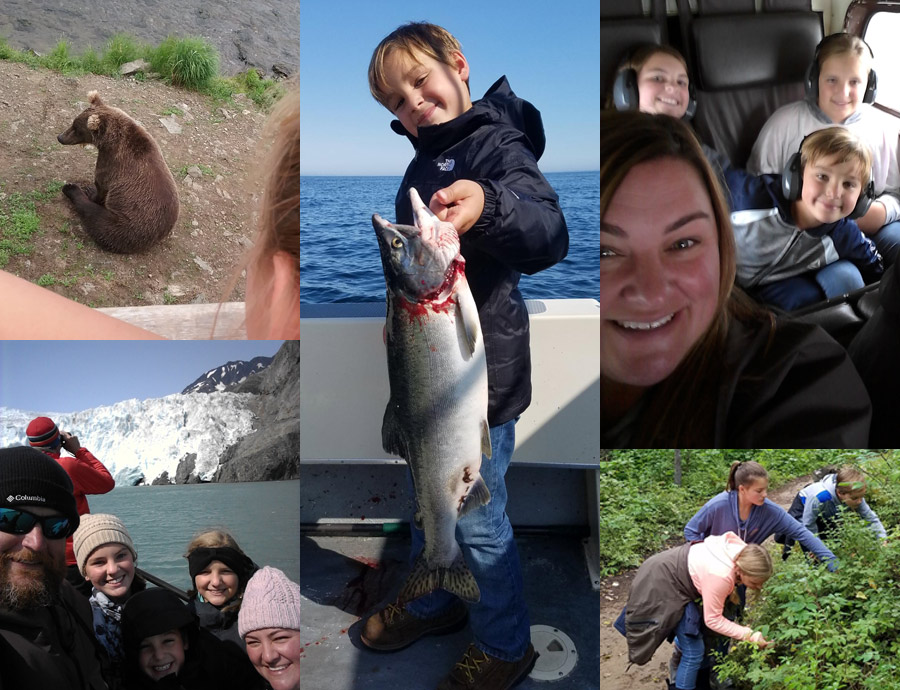 7/31/2019 via email:
Hi Marjy, Words cannot express how much Alaska touched my heart. It is vast and gorgeous beyond belief. It was everything I expected and more. I loved Denali, the train, the copter/dog sled experience, and the amazing Discovery trip. The crew was so knowledgeable, which made everything so interesting and exciting. Loved the walk through the rain forest and our kayaking experiences. Impressed by the glaciers and waterfalls. I didn't even mind the storm on our last day out as we still saw amazing sites. All of our guides were interesting and knew their stuff. They left a lasting impression. Thank you for all your hard work for us - it was worth it!!
MB

7/30/2019 via email:
Hi Marjy, We had an experience of a lifetime and were awed by the grandeur of Alaska's landscapes and it's heritage. Such a special place. Here are a few observations about our itinerary, we would have loved to have spent time in the Museum of the North in Fairbanks, but did go to the visitor's center which we thought was very informative. Denali was fabulous even though 12 hours on the bus was really long, but we saw all the expected animals and a few extra. Our guide on that bus happened to be a graduate of the college that is in my home town so we had fun visiting with her. We knew some of her professors. Small world. But, overall, "R" and I would have loved to spend more time in Talkeetna and less in Fairbanks. The really early morning in Talkeetna to get to the hike in Denali State Park was hard, but considering we had a beautiful day and Mt Denali was visible on our hike made it extra special. All the accommodations were good and comfortable. And all the tours, train rides, and transportation were good. We did love the dome cars on the trains, but didn't eat on that last leg to Anchorage as we thought the food was just adequate and pricey. Instead we ate dinner once we got to Anchorage. For me the Discovery Voyage (small ship cruise of Prince William Sound) was a highlight! What a once in a lifetime experience!! The crew was top notch!! We went to the botanical garden after going to Girdwood since we had a car. The helicopter ride was very fun and dog sledding quite an experience. We also ended up cancelling our last rental car in Anchorage after the cruise and just took walks in downtown Anchorage, went to the Anchorage Museum which was also outstanding, and walked along the bike/walking path along the water and mud flats. Then went to the airport for our flight. United Airlines at the Anchorage Airport could use some help in their organization of checking in so many passengers.Thanks for all your help in putting together the itinerary. A pretty special trip!
J&R S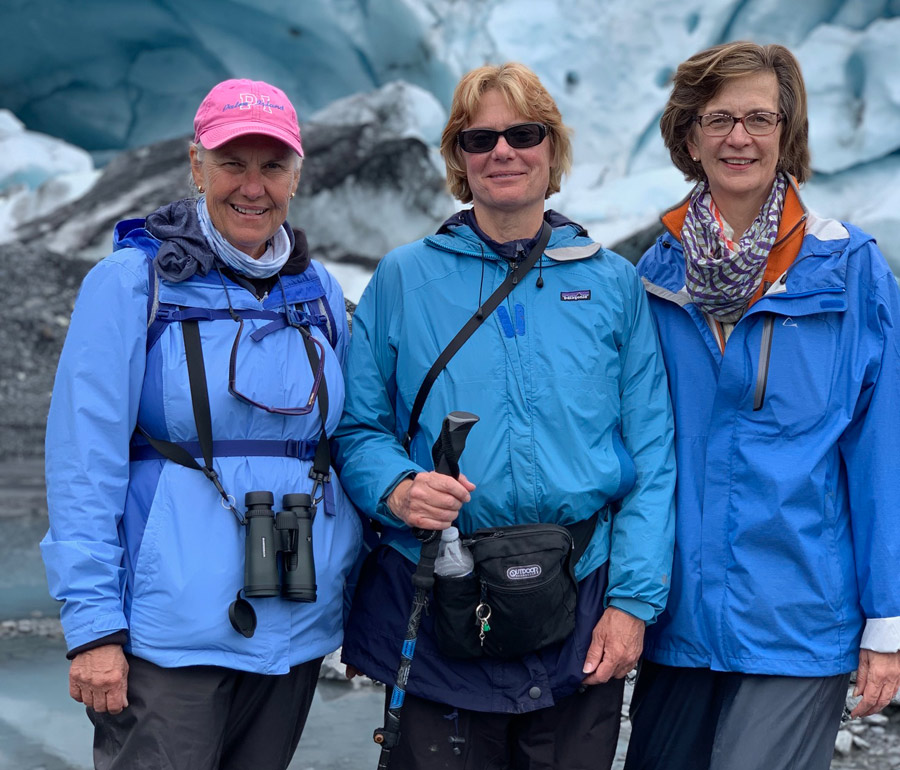 7/09/2019 via email:
Hi Marjy, I'm sorry I missed you waving when we left. We were so busy watching the Wrangell kids jumping off the pier. We couldn't believe they weren't frozen solid! The rest of our trip was great (Alaskan Dream small ship cruise). The last day on the ship we saw orcas for the first time. K was one of the hardy souls that took the Polar Plunge. The rest of us took pictures. On our layover in Seattle we took the light rail downtown, had lunch at the Pike Street Market and took in the sights. We couldn't have asked for a better vacation! Ray has not downloaded his pictures yet, but when he does I'll send the photo of the five of us (and probably a few others 😉). Thanks for everything. We had a great time!
T&R R

7/02/2019 via email:
The trip was awesome, no small part due to the jewel of a ship, Azamara Quest, and our beautiful, functional stateroom. The weather cleared up a bit after Ketchikan, and was warm and clear the rest of the trip. We were lucky not to take the $300 per person small boat trip in to the glacier (which was absolutely gorgeous in the sun), because the captain took us as close as was safe and we had plenty of room to move around from one side to the other. The small boat was jammed with maximum people. You did a great job helping us with our trip. I thank you wholeheartedly, and will contact you again if we ever decide to go for another excursion. Some of the other passengers were complaining about the hard time they had putting together their trip, but thanks to you, our plans went very smoothly. The size of the ship is perfect. We docked next to one of the 2-4,000 type ships, and when it was time to embark and get back to the ship, our people walked in one by one, while the other had really long lines. I loved the absolutely impeccable service; personnel were attentive and friendly, more like family by the end of the trip. Fellow passengers were great; they socialize or not, and we never felt overwhelmed by activities. The living spaces were really the major part of the ship. We could go to the library or game room for small spaces, or spread out in the living room and the 5th floor areas. All the food choices were great also. We started with Windows for a day and night, but then we enjoyed the tables at the Discovery Room, and the luxurious dining rooms. On my birthday, the wait staff brought me a cake with candles for desert, and there was a "Happy Birthday" banner in my stateroom! The initial visit to the Discovery Room for dinner, the staff asked if we would like to sit at one of the officers' tables. We did and got to meet and chat with the Chief Engineering Officer from Croatia. How cool was that! The post trip was also great. Seamless with the suitcases and connections. It was hard at times, as the bus trips were necessarily lengthy, but certainly wort the effort. Going deep into Denali was a trip of a lifetime, and the guides were to a person, knowledgable and entertaining. (The one on the bus through Denali was a bit irritating, as she talked every minute of the trip. No down time for us travelers!) We made a great choice by choosing the wildlife rescue center tour, as we saw bears and raptors VERY close up and far better than from the buses. But that said, we got some great shots of bears, goats, caribou, moose and another bus loaded with passengers leaning out of their windows taking picture. The lodges on the post trip were super; we had a great, costly, once in a lifetime dinner at Seven Glaciers. I was lucky to snag ahead of time a seating for 5:00. Hope you can glean some comments from the above. I meant to do a more formal report, but my enthusiasm ran over. It was just a sensational trip, all around! Right now, John is pouring over the pictures he took and reliving the experience. I'll gather up some photos for you to choose from and send them on. Thanks again for you caring and capable assistance.
M&J L


7/02/2019 via email:
Nice to hear from you! Yes, the portion of the trip we planned with you (Denali, Seward, Homer land tour) was amazing. We had great weather for those 8 days. The only rain was off and on in Denali which apparently isn't unusual. We were quite shocked at the bathroom in the hall, but the hosts were lovely and the view from there is spectacular. We really enjoyed everything about that portion of our trip. Attached are a few pics - and thanks again for all your work on our trip. And for dinner in Sitka- that was lovely and unexpected!
E&A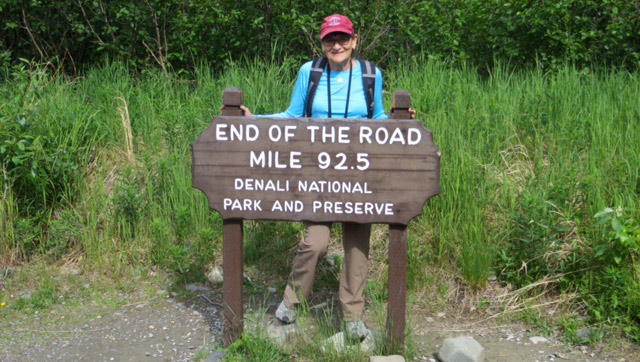 6/27/2019 via email:
Marjy, Your recommendation of Alaska Dream Cruises was perfect!! We loved the Alaskan Dream, where we went, what we did, and the whole experience……………..The group we toured with was wonderful. One of the best trips we have ever taken.
MC & MD

6/24/2019 via email:
Hi Marjy, Sorry to be so long to respond to you…We enjoyed the first part of our trip. (Seward, Denali, Talkeetna land trip) Had good weather and some rain but not so much. Renting a car was nice. There were not many people on the road even over Memorial Day. They upgraded our room in Seward. Edgewater hotel is the place to stay. The day cruise was ok, but it rained solidly all day so mountains were barely visible. Saw a few whales. Went in the evening with full sun and warm weather to Exit glacier and hiked some. That was amazing, very enjoyable and almost no people. It rained solidly in Talkeetna so we did little but hang out at a microbrewery but met nice folks. Our room was good but I believe we would have seen a bit more of Talkeetna had we been in town. Our Denali accomodations were fantastic. What a lovely spot. The trip through Denali was good but we did not see many bears. Did some hiking and got a few glimpses of the mountain. We enjoyed a nice bike trip along the coastal trail in Anchorage. Saw some moose. Good restaurant in Anchorage recommended by some locals was F street station. Fantastic halibut reasonably priced, ate there twice. The hotel we booked ourselves for our arrival in Anchorage, Inlet I would not recommend. Too old, depressing. The Clarion was great. Flights worked out well. The cruise (Alaskan Dream Cruises – Last Frontier Adventure) was great. Nice group pf people, we all got along well. The ship was nice. Our room small but comfortable. I did the polar plunge at the end! Figured probably only 1 time in my life I wound plunge into Glacier Bay! We had a couple of hikes. The one in Wrangell was very nice, but another one, they were not so well prepared for. Sent about 15 of us out with the chef and one other boat worker. The naturalist didn't go. Lots of downed trees, trail not so good and I was very worried someone would get injured. We were strung out with no one really caring how we were doing, no bear spray nearby. A couple people fell but fortunately no injuries. We have done trips with group hiking before and usually there is great preparation, first aid kit. We had another hike to a hot springs which was good but really dangerous, slippery rocks getting into the water. I was very afraid of falling. Our kayaking was very nice with easy entrance and out of the water. I saw the other boat we had looked at and did not so much like the boat compared to ours. Ours had so much more of an open feel. Seas were so calm, but not many bears out. Our day in Glacier Bay was beautiful weather but we really only saw the one glacier at the end of the trip up close. The glaciers are so small in Alaska compared to the bottom of South America. We very much enjoyed our time at Mendenhall in Juneau. Took Lyft there but complicated to get back from so ended up with a taxi. Enjoyed just walking about Juneau which is a lovely city. Well, finally a response from us. All in all it was a very nice trip. Thanks so much for all of your help in preparation for the trip. Thanks again and would love to return to Alaska one day. Big hug til we meet,
JS

6/11/2019 via email:
Hi Marjy, thanks for following up! We had a fabulous time (on Un Cruise small ship cruise and land) and it wasn't really affected by the weather at all. Thanks again for all of your assistance in figuring it out and setting it up. We were amazingly lucky in Denali - saw Mt Denali two days with spectacular views and all sorts of wildlife including both mother bears and moose with two youngsters each. Also on the cruise, we saw an amazing glacier calving directly in front of us from only about 1/4 mile away in a skiff. Scared the hell out of our pilot the wave was so large - we were too ignorant to realize but all was well. On another note, can you tell me about your ability to help with other types of non-Alaskan travel? Setting up air travel to Europe using miles or dollars or combination for example or setting up different types of cruises including repositioning ones? Or even travel to other national parks in the mainland? You were great to work with and very forthcoming with what you can do and can't do which works great for us. Hope u enjoy the pics - I'm sending them separately. Best regards,
SG and BB


6/10/2019 via email:
Hi Marji,
How can we describe our time in Alaska, you ask? (on Un Cruise small ship cruise) One word- PERFECT!! Also, awe inspiring, magnificent, un-imaginable are a few others that come to mind as well!! We thoroughly enjoyed ourselves each and every day with various options such as: kayaking, skiff boat, hiking and beach walk. The Polar Bear plunge was too extreme for us but did enjoy witnessing the bravery of our ship mates! The only time it rained was Friday and Saturday and then it was very light and intermittent throughout the day. Most days were in the upper 50's to low 60's with clear blue sky's and sunshine! The weather was warmer and dryer in Alaska that week than back home in New York State! Yes, it would have been a pleasure to have met you as well! Enjoy the photos!! Have a fantastic summer and thank you again for making our dream come true! Fondly,
M&G R


6/08/2019 via email:
Hi Marji,
The trip was great! The scenery was beautiful. The change in the flight out worked perfect. The only bad thing on the trip was setting on the plane in Denver for two and one half hours before taking off. This was on the flight home. Thanks for helping us make the trip possible. We are considering our next trip. Will be in touch with you when we decide.
J&S S

5/20/2019 via email:
Hi Marji,
Sorry about the slow reply - retired life is busier than I thought. Mary and I had an absolutely fabulous trip. Yes, it rained and misted and drizzled for the first couple of days but we rally didn't care since we were dressed accordingly and once you're wet, you can't get any wetter. Then the sky cleared to a beautiful blue as we entered Glacier Bay - perfect timing and we ended in Juneau at 70F. It was a fabulous trip, fantastic crew, perfect service, a bunch of wonderful fellow passengers and even a polar plunge for Mary (I had more sense than that). We ate too much, probably drank too much but had an absolute blast taking advantage of all the day trips and excursions. Also had the pleasure of meeting Dan in Juneau who took us around the town for a history tour. All in all - it couldn't have gone any better. Have fun this summer and I'm sure we'll keep in touch.
WA and MW

3/14/2019 via email:
Marjy, We only saw what was called the ghost aurora. It was very cloudy, but some did see some green and they were satisfied anyway. We loved all the activities. I fell at the Santa Claus house and broke my leg so had to be in a cast, which slowed me down just a little. We are looking into a possible retreat next year utilizing the Denali train ride so I'll check it out a bit more. If you have any information on a possible 4-5 day trip let me know. Thank you for all you did. I would recommend Chena Hot Springs and all of the activities and people who worked with us during this years trip. Thank you,
LH

3/07/2019 via email:
Hi Marjy, How are you? Thanks. We had a great time. The tour was fantastic.(Iditarod Winter Both hotels were nice. We appreciate all your help. It was great to just follow along the tour. We went to the mushers banquet and met Jeff King. Here is our photo. The weather was about 5-10 degrees better than expected, which was nice. We saw a baby moose on the coastal trail. We came home to snow in NJ. I am ready for Spring now. I will keep in touch with any future travel plans and maybe I will convince others to try Alaska. Thanks.
S&E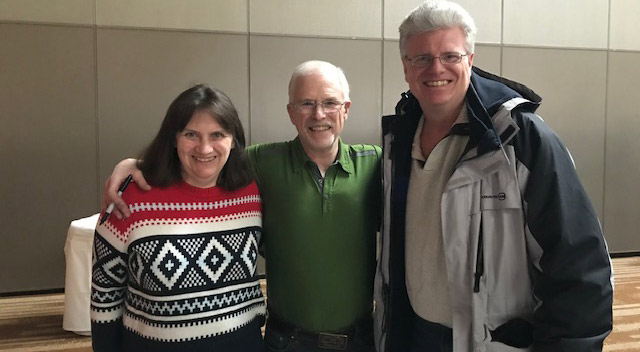 1/05/2019 via email:
Marjy, Yes we had a wonderful time, better than we had anticipated. (Sept 2 Alaskan Dream small ship cruise) If we run into someone who wants to take a similar tour, we will happily and confidently recommend you to arrange them. Good luck in 2019,
DL